Many of you have been asking where to find ethical and sustainable yoga wear and where to buy props. So, I've done my research into why, what and where and here are the results….
why buy eco friendly, sustainable & ethical?
Fast fashion and consumerism are just not viable for the future of this remarkable planet or for its people. From raw materials through to end-of-life, the fashion & retail industries have significant impact on our natural systems.
This is due to high CO2 emissions; other forms of pollution; harm to human health; significant freshwater withdrawal (to grow fibres, for dyeing and finishing fabrics) and resource depletion.
And although it's a lucrative industry for some, the profits don't reach the makers. Garment-producing countries frequently set minimum wages below a "living wage" thus leaving the majority of workers and their families trapped in poverty. In addition, fire safety, unsafe working conditions and structural defects within factories remain a concern.
I've only scratched the surface, but this is why we must consider firstly, whether a desired item is essential and secondly, if it will add value to our lives. And then if so, where possible, we must chose eco-friendly, sustainable and ethical.
Don't forget, at Centred Ground Physiotherapy & Yoga, we supply all the props for you.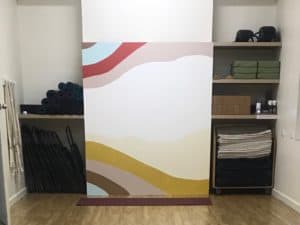 what should we be looking for?
Ideally, we'd love for all brands to be:
Environmentally friendly- Minimal or no harm on the environment and ecosystem.
Empowering– Enables disadvantaged people and communities through training and employment to lift themselves out of poverty & gain independence.
Fair– Made by someone who is of a working age, has safe working conditions & is paid a living wage.
Locally made
Minimal waste
Sustainable– Natural and organic fabrics, biodegradable materials and non-toxic dyes.
Transparency– You can tell who, how, where and when their products were made.
Upcycled
Animal Friendly
So, after much searching, these lovely businesses & brands have made it to our list of environmental friendly, ethical and sustainable yoga wear/props. Once you've checked them out, book into your next yoga class and we'll look out for you sporting your new gear 😉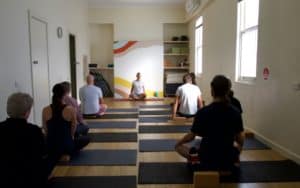 shop and support local in adelaide, south australia
brand
approach
items available
Eco Lateral
Magill, Blackwood, Brighton
Carefully curated products selected to ensure they strictly support the sustainable use of our earth's resources
Yoga mats, grip socks, bricks, bamboo & hemp clothing & socks
Bolsters and Things
Ashford SA
Bolsters individually hand-made with natural
Australian cotton filling
Made to order
Bolsters, blankets, bricks, belts, eye pillows, mats
brand
approach
items available
Ethica
Australian made (in SA)
Sustainable fabrics, eco-packaging and labelling
Materials: Bamboo & recycled polyester
Chemical free dyes
Leggings, shorts, tops
DK Active
Australian made
Regenerated nylon, organic cotton, bamboo and modal
Plastic free packaging- non-toxic and biodegradable satchels
Solar powered HQ
Range of ladies & menswear incl. maternity wear
Organic Yoga Company/ Vege Threads
100% Australian owned & manufactured
Transparent & ethical supply chain
Users of Australia's carbon neutral delivery service Sendle
Packed with tissue paper, paper stickers, compostable satchels & recycled postcards
Women's & men's clothing & activewear
Bay Active
100% made in Australia
Supply chain is 100% transparent
Organic cotton, merino, bamboo & econyl (made from damage & abandoned fishing nets)
Recycled packaging
Re- purpose  surplus fabrics that may end up in landfill
Range of active and comfort wear +Yoga mats & bricks
Dharma Bums
Recycled nylon and organic cottons
Dyes are non-toxic
Sublimation printing: less water, electricity & waste
Biodegradable plastic packaging- switching to compostable
BSCI factories in china
 
Eco.Mono
Offers from brands leading the way in ethical women's fashion
Posted in compostable packaging
A curated collection of sustainable monochrome clothing
Natural Dyes

Ethically made in Bali

Materials: Bamboo & econyl (regenerated nylon), GOTS Certified Organic Cotton

Shipped in compostable packaging

Yoga shorts, leggings, loungewear, intimates
brand
approach
items available
LovEarth
Compostable/fully biodegradable jute/rubber mats
Mat donation program-they recycle or up-cycle your old mat for you
Yoga mats, mat bags
Body Mind Connect
Natural, sustainable, chemical-free, biodegradable materials
Yoga mats, bricks, belts
The OM Shop
A collection of eco-friendly yoga mats + accessories
Difficult to interpret their star rating system
Bolsters, mats, straps, bricks, eye pillows
Second Earth
100% Australian owned/operated
Manufacturing SE Asia
Jute and natural rubber
Recycled packaging
Yoga mats
EMP Industries
Offer an 'Eco Yoga Kit'
100% Australian owned/operated
Packaging not considered
Yoga mats, bricks, belts, blankets
IYoga Props
Organic cotton & recycled items
Packaging not considered
Recycled cotton blankets, eco bolsters, cork & natural rubber mats